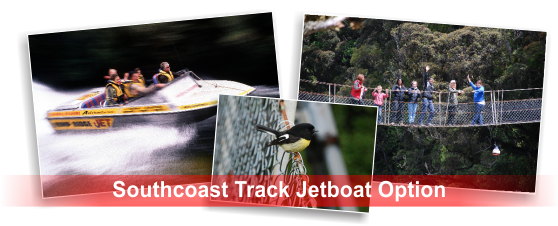 This is our Walk and Jet Boat Option. This Option can also be worked in with walking the Humpridge track just give us a call we'll sort it for you.
$225 pp
Day One
Start from Bluecliffs Beach, Te Waewae Bay and Hike along the South Coast Track to Port Craig Village 17 kms - Track 6-7 Hrs or Low Tide Beach 5-6 Hrs Accomodation at Historic Schoolhouse.
Day Two
Follow the track along an historical logging tramway almost to the Wairaurahiri River. Cross the Sandhill Viaduck and the Huge Percy Burn Viaduct. Then onto the Edwin and Francis Burn Viaducts. Amazing 13 Kms - 4-5 Hrs.
Meet up with the Jet Boat for a 2 Hrs of solid thrills of Grade 3 rapids. You will travel the full length of the Wairaurahiri River and across Lake Hauroko where transport will return you to Blue Cliffs. This is Southland at it's best!
For This Trip You Will Need:
• Warm Clothing, Gloves, Hats & Wet Weather Gear
• Own Provisions & Camera
For more information and bookings please click here